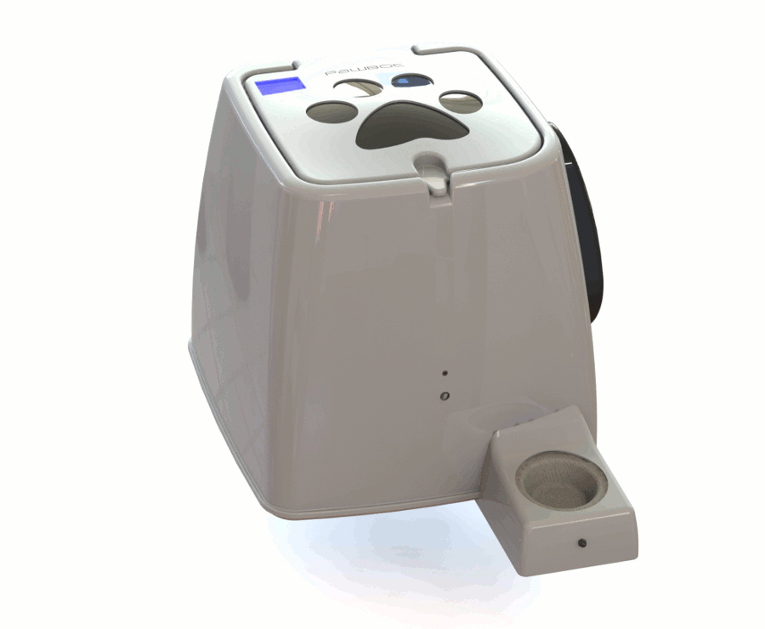 Capacity: 18 cans. Handles two standard pet food can sizes: 5.5oz and 3oz. You can restock anytime and PawBot will automatically see the new cans. Read more: What type & quantity of food cans can be used with PawBot?
Food dispensing Modes: There are two modes.

Time based mode: Setup up times you want food served to your pet on daily basis.
SmartFeed mode: You decide how many cans per day you want PawBot to serve, and when PawBot senses that the previous bowl is empty, PawBot serves the next can automatically as long as your set daily limit of cans has not been reached. You can change this limit anytime you like. Read more: How does the dispense cycle work?

Bowls: PawBot uses a fresh bowl every time. We use eco friendly, 100% compostable bowls, made from wheat straw, which have no plastic or wax lining, are gluten free, are soak proof and are FDA compliant. You can purchase the bowls from us, or from your local grocery store, or from Amazon (link). All new PawBot units come with 100 free bowls.
Stale food handling: By default, PawBot will retract any food not consumed for 12 hours and put it in trash. You can change this stale food time setting easily.
Wash and rinse dual bucket allows PawBot to wash and rinse itself after every cycle. This bucket is easy to remove for refilling with few drops of soap with water and diluted vinegar with water.
LCD or remote access. Easy setup using a simple LCD touchscreen. You can also connect to your PawBot remotely with any internet connected phone/ PC/ tablet. See video above for the interface and usage.
PawBot is designed, and manufactured in USA. All PawBot's custom parts are manufactured in USA, close to our assembly facility in Chicago area. This helps us keeps our supply chain local and easy to monitor for high quality parts. Please note that there are some off the shelf (non-custom) parts we import to keep our manufacturing costs low.
PawBot Models/ Costs: We offer 3 models. Please see: PawBot Specifications/ Costs
LAUNCH SCHEDULE / estimated dates: Please see: Launch Status
More questions? Please see: FAQ
Still more questions? Please contact us